Chinese Heavyweight Aorigele Suffered A Horrifying Low Blow That Induced Vomiting From Onlookers
Share This Story, Choose Your Platform!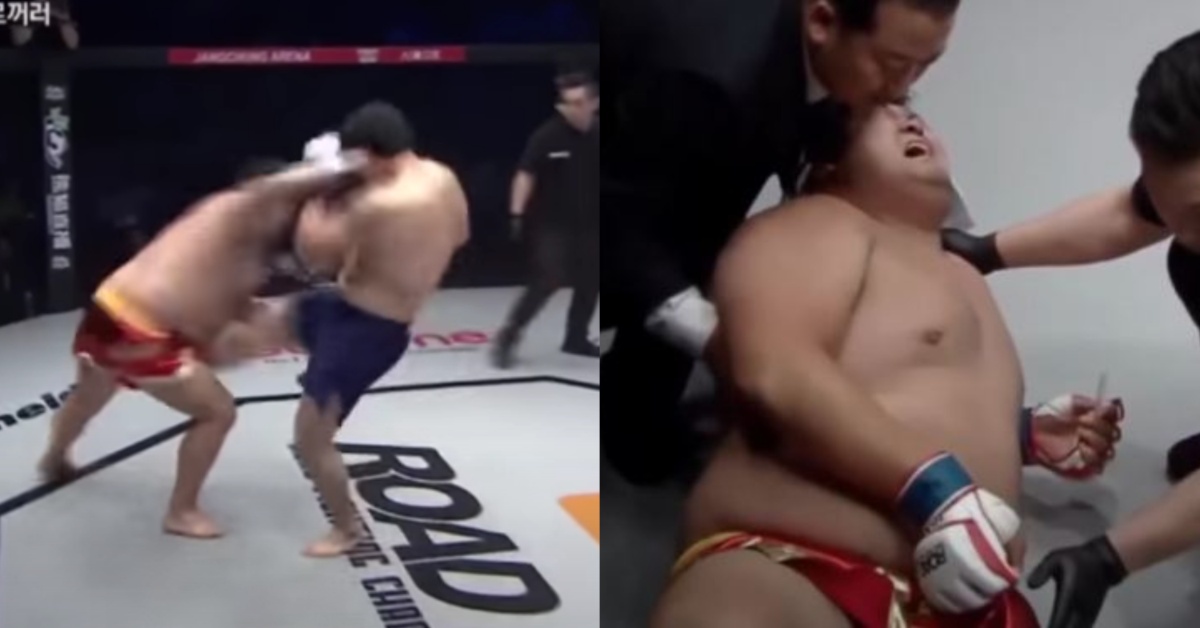 Chinese heavyweight sensation Aorigele once suffered a low blow so vicious that it caused onlookers to vomit.
Aorigele had become immensely popular in his native country and, thanks to social media, around the world over the last several years as the heavy-set mixed martial artist continuously displayed strength and agility that earned comparisons to ex-fUFC star Roy 'Big Country' Nelson. But if you ask MMA fans what they know about Aorigele, they'll likely remember him first as the guy who took perhaps the most brutal groin kick in the history of combat sports.
In 2017, Aorigele stepped into the cage for a bout with Hyun Man Myung at Road FC 39. Riding back-to-back first-round knockouts, including a 35-second knockout of Bob Sapp, the plus-sized striker was keen to make it three in a row. Unfortunately, his hopes were dashed mere sends into the contest when his opponent landed a gut-wrenching low blow that sent Aorigele crashing to the canvas and writhing in pain. The accidental strike was so horrifying that one witness said, "I just threw up at the sound."
Aorigele Held No Ill-Will Toward His Opponent
Road FC promoters confirmed that Aorigele was released from the hospital shortly after his admission and revealed that the fan-favorite would suffer "no lasting or permanent damage." 
In his first statement following the incident, Aorigele placed no blame on his opponent and remained focused on recovering before an inevitable return to the cage. "What's left now is to return to Road FC after a full recovery, meet Myung Hyun-Man, and put on a thrilling match," he said. "Many people might have misunderstood what happened in our match. It was totally an accident. Myung Hyun-Man didn't do it intentionally."
The big man bounced back, returning to the Road FC cage a little more than three months later. He would go on to win four more wins, extending his streak to six. His last bout came against Jae Hyuk Heo in 2019.
Source link
Share This Story, Choose Your Platform!